Ten Super Raw Ways to Enjoy Valentine's Day
Hey beautiful ONE!
Let me set the scene. I've had a long gruelling day in London with Evie. Couldn't wait to get back home but the prospect of coming into a cold house wasn't too appealing. My heating is broken, on one of the coldest days of the year.
As we opened the door, the smell of a fresh log fire wafted out to greet us. And as we entered the lounge we felt so happy to find it was still roaring. Not only that, but there was lots of new wood stacked next to it. A pixie must have made our house warm! How warm we felt, in our bodies and our hearts that we are loved so much that we allow ourselves to be looked after like this. I remember a time, not too long ago that I wouldn't have invited that energy in, but that's a different chapter (same story though).
I added more wood to the fire, and settled Evie in my bed. Well, I want a nice warm snuggle tonight. I mean, her bedroom is an icebox, as I've only got one electric heater 😉
Then I brought my Mac downstairs, made a cup of herbal tea (Love, of course) and sat on a red fluffy blanket that made me feel grounded as well as cozy and set to work writing you a very special LOVE article for tomorrow, the day of love.
Valentine's Day (or the Feast of Saint Valentine) is associated with love, romantic gestures, hearts, flowers and serving your loved ones. So I wanted to offer you ten ways we can do this, in the rawest way possible! Please bear in mind I can't count.
1. Want to surprise your loved one in the morning? Bring them a tall glass of blood red goji milk for breakfast on a tray with a single red rose! Whizz up 1 cup gojis with 1 tbsp raw agave nectar, 1 tsp cacao powder and 2 cups almond mylk (almonds being symbolic of "abiding love and friendship"). Serve ice cold (but with a warm heart!)
2. Time to touch! Offer a massage to your loved one. Crack out the coconut oil and start with the feet, working up the body, while listening to very beautiful, sweet lure music. (Or if you want beautiful sexy music, have you heard Tawk's album? Mmmm Mmmmm! He's like a modern day Barry white, the King Of Love.) Coconut oil can be used for ALL sorts of massage, including intimate ones (ooh!) so make sure you're well stocked — although a little can a long way! Touch is SO important in a relationship and Valentine's Day is the perfect day to unite your bodies in a slip slidy way!
3. Get out into the wild! Even if it's pouring it down, or the earth is covered in snow, get warm and get out. Trek across the terrain, blow away those cobwebs and get chatting to one another! Chat about the things that make you both tick to fuel the passion. Or if this is a new relationship, find out more about each other while setting a good pace and exploring new paths! Literally.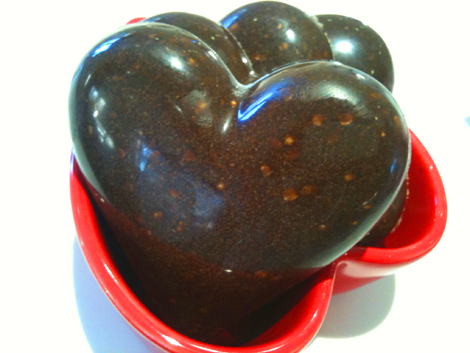 4. If you just want to stay in and snuggle… light a fire or a few special candles, read love poems to each other, make a mug of sweet cinnamon hot chocolate, feed each other chocolates and tell each other why the other one is so flipping special!
5. Chaucer wrote, "For this was on Saint Valentine's Day, when every bird cometh there to choose his mate." If you find yourself sitting alone on February 14th, is it time to think about who your mate could be? And where can you find them? What do they look like? What do you want from such a person? Create a vision board (while eating customary Valentine's raw chocolate) of exactly who it is you wish to meet in the eternal NOW. Create it to every last detail, and feel how it would be to be loved and snuggled by that special someone. Then light a candle (just because it makes it feel special!) and with utter gratitude in your heart ask the Universe to make it so. Then perhaps hop out into town or for a lovely country walk because it's unlikely you'll meet them sitting on your laurels at home now, isn't it? (unless you're on Facebook or one of those dating agencies, then it is possible — Love loves a helping hand and knows no technical boundaries!) Oh, and remember to become the person who would love to be with the person you are asking for, that's pretty essential 😉
6. If music be the food of love…. create a new playlist of all your favourite love songs — songs that uplift and inspire, songs that fill your heart with the power of love, music that stirs your innermost emotions and make your heart feel like it might burst at any moment. How about Etta James with At Last, or the bounciest lady in pop Beyoncé with Listen, or if you're like me you would probably include Utopia by Alanis and Sweet Salvation by the Cult… you really don't have to do the standard love song list, you know, and it's such fun searching for unique love songs! Could you share these songs with your loved one and enjoy some late night smoochy slow dances — in your front room? Yes! Why not! Dim the lights down low, light the scented candles and get up front and personal… fill in the rest of the evening with your unlimited imagination 😉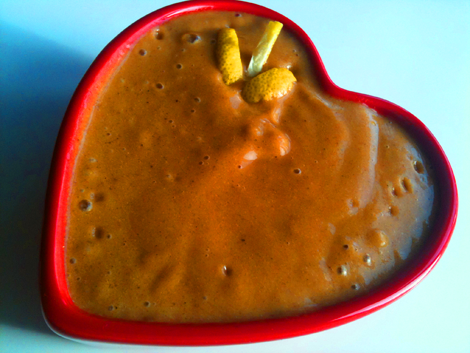 7. Remember to eat! Even if you're totally loved up, what would feed your body, heart and soul more than food that loves you and your special one? Read through my recipes from any of my books or online and choose something that you'd like to create something either together in the kitchen or as a treat. Don't forget to wash up and clean up afterwards… there is nothing as sexy as a sparkling kitchen (is there?!)
8. Roses are red, violets are blue…! Create your very own Valentine's card complete with raw chocolate heart inside! Use natural materials if you like — you could write a message on a stone or a leaf or fancy paper adorned with dried cut flowers… if you have all the ingredients to hand (and a heart shaped mould), make some lovely chocolates, wrap in red foil and pop inside the card. The 'Roses are red' poem is so well-known and always brings a smile and makes one feel loved! So start with the first two lines:
Roses are red
Violets are blue
Then add your last two lines to create the poem! (e.g. I can't live without chocolate… or without you!)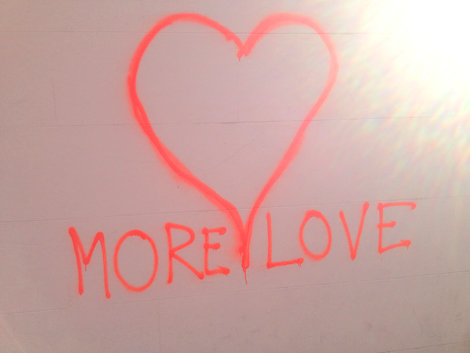 9. We don't have to wait until Valentine's Day to show our love to one another but it's SUCH a good excuse to go the extra mile. Whoever you're with, do one special thing for them today, in the spirit of love and service. They might reciprocate (in fact, you could suggest that you both have to think of at LEAST one special thing to do for each OTHER.) Let it be a surprise… let them enjoy it… see their eyes light up and their passions ignite. Today is a really good day for serving a loved one and for them to serve you. And if you're single, then give yourself a day of self love. Do everything with presence, enjoy the love you can bring yourself, appreciating that you will always be there for you.
10. Go star gazing… in the raw! (OK, you might want a blanket!) Sit outside, in the last moments of the day when all is dark and hopefully the night-time sky is full of magic and stars… sit together, naked as the day you were born and while you look at the stars (or even the cloudy sky) whisper your longings, your desires and intentions for each other. Tell one another sweet secrets, whisper words of love, enjoy being close and still and calm and near. If you have not found your loved one yet, do this with a friend (clothed, if preferred!) and enjoy the sweetness of true friendship and true love between attracted souls. Or do it alone, and send an extra special message of love to yourself. Just make sure you get connected with the earth, be barefoot on the ground, and remember your roots.
And just as a last tip… (let's make it 11 shall we? I told you I can't count!) Write a love letter — to yourself. Tell yourself all the wonderful things you know about you…. how lovely you are, how special, how beautiful, all the nice things people say about you… and pop it in the post to your address. Enjoy opening it a couple of days later, and know you are a wonderful being who deserves love from everyone and everything. We all have to love ourselves before we can truly love each other. Go check you out in the mirror if you don't believe how amazing you are! Who else is exactly like you? No one. And if you didn't exist there would be a huge YOU-shaped hole in the Universe. Doesn't bear thinking about, does it?
So that's it. My fire's going out, I'm feeling nourished by my tea, and my bed is calling me, complete with an eight year old angel of a hot water bottle! Let me know how you celebrated your Valentine's day in the comments below. I always love to hear from you!
Happy Valentine's Day from Shazzie, who has a whole lot of love for all of YOU!
Bliss U

PS: Did you know that all my raw food courses, over 500 raw food recipes and over $3,500 worth of other life mastery training is all now in Shazzie's VIP Room? Take a FREE trial and feel my love!
Comments
Doxtor
https://shazzie.com/wp-content/uploads/2022/06/shazzie-sig-gold-header-1.png
Doxtor
2013-02-13 22:44:34
2018-02-02 22:31:09
Raw Love