Oooh la la
It's that day of love, romance and… chocolate…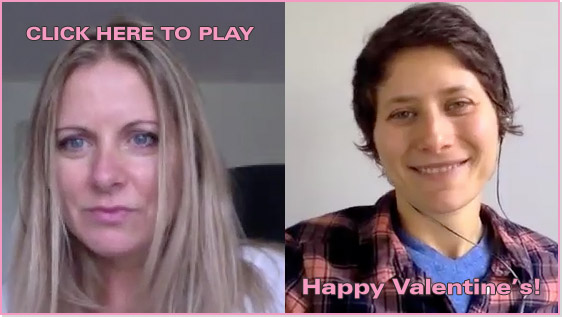 When there's chocolate, does it really matter if you have love in your life?
Thanks to the high PEA content in cacao, you'll feel in love anyway!
And when you watch this, you'll feel even more in love!
I have to admit, I totally adore Amy and what she's doing in the world of raw chocolate.
I couldn't NOT interview her about it. It was one of the most juicy interviews of my life…
Listen as we:
Chat about everything to do with raw chocolate.
Uncover the best (and worst) sweeteners to use in raw chocolate making.
Discuss chocolate making as an act of devotion.
Talk about what fats to use in chocolate making.
Discover the delights of the mélanger.
Get emotional about the raw chocolate revolution and how it's changed the world.
Discuss the health benefits of raw chocolate. You'll get two completely different perspectives.
Delight in raw chocolate making becoming accessible to everyone, no matter where in the world they live.
Talk about how chocolate takes you on a journey of discovery to reveal your true self, and how you can put that essence in a bar.
Discuss Amy's way of making chocolate. Yes, it's good.
And I even clear up the pronunciation of praliné (and why I thought it was something completely different. Well, didn't you?).
Everything we talk about is raw and vegan. How amazing that we can make such indulgent and beautiful foods.
And right at the end of the video, I have a very special surprise for you. Partly because it's Valentine's day but also because I want you to love your immersion into the world of raw foods so much that it transforms you into the being you were always destined to be but cooked food kept you away from yourself.
—>>> Check it out now… you will learn so much from us in the next hour! <<<—
Bliss U

PS: You may need a hanky when you watch this. Here are two girls chatting about
their love and devotion to making raw chocolate, and we do well up. Sniff.
Comments
https://shazzie.com/wp-content/uploads/2015/11/amy-and-shazzie-talk-about-chocolate.jpg
317
562
Doxtor
https://shazzie.com/wp-content/uploads/2022/06/shazzie-sig-gold-header-1.png
Doxtor
2014-02-14 01:20:24
2015-11-14 05:34:45
How to make raw chocolate