Raw food recipe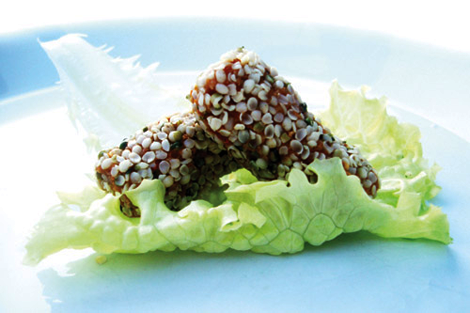 Hemp croquettes
Lovely and light, you will delight in rolling these around the plate. You might even eat them. I make these straight after making a juice, so that I've got fresh carrot pulp and I don't need to clean the juicer twice.
Makes about 12-18 depending on size. Keeps for five days when refrigerated in a sealed container.
Blend everything apart from the pulp in a food processor until well mixed. Add it to a large bowl and add the carrot pulp. Mix everything together by hand to get some extra love into it.
Take a lump of mixture about the size of a golfball, roll it into a ball, then a sausage, and then fl atten the ends by standing them briefly on a plate. This mixture is very soft, so it's easy to work with.
Roll each croquette into some spare seeds so they stick to the whole croquette. Place them on a dehydrator tray then dehydrate at 115°F/46°C for about six to eight hours. This is great timing if you do it in the morning, as it makes them ready for a lovely warm teatime!
Bliss U

Warning: Don't even think about going raw
without reading this first (CLICK HERE NOW).
Comments
Doxtor
https://shazzie.com/wp-content/uploads/2022/06/shazzie-sig-gold-header-1.png
Doxtor
2014-03-14 11:11:18
2015-11-14 05:34:34
Free raw food recipe -- Hemp croquettes