Let's Take A Look At Your 2017 NOW
Hi beautiful
How are you feeling this gorgeous sunny morning? I'm all bonfired out after the weekend, looking forward to a less bang fizz whizz type of day!
I was just thinking about you, and what you're going to do differently in 2017 (which is peeping round the corner already), that will help you live that life you always wanted. To upgrade your health, fitness, joy, relationships and abundance. All that juicy stuff that you are always wanting more of 😉
Then I remembered my backwards goal setting technique. I teach it in Divinity In A Box, the fast and effective transformation course that you get as a bonus when you join my life mastery club.
—>>> CLICK HERE FOR DETAILS ABOUT VIP 3.0 <<<—
Personally, I've been doing backwards goal setting for the last sixteen years. With everything I've achieved (TV series, 5 books, best selling apps, $20m turnover, raw chocolate revolutionary, cute puppy, lovely daughter and that crazy pink haired boyfriend), I can guarantee you that it works.
Because I really want to serve you in the most effective way, I'm going to teach you backwards goal setting with affirmations right now, so you can have the best year of your life in 2017.
It takes less than thirty minutes, and I invite you to give yourself that time now, so you can start to really look forward to creating a brand new you on this glorious Monday morning.
Grab a pen and at least two pieces of paper… oh, and some raw chocolate!
Are you ready to create your 2017?
Let's go…
First, you need to make a promise to yourself: Be honest and consistent while you do this process. It's so worth your time! "When we expose our vulnerabilities, the door to our heart creaks wider open." Still with me? Good, here it is…
Backwards goal-setting with affirmations
This exercise is one of the most effective ways to catapult you towards a new, shiny, bright future.
I want you to approach this in a state of knowing anticipation, that all you wish can and will be yours when you use this technique.
This is where backwards goal-setting really shines. It gets you ready for a life of change and bliss, rather than keeping you feeling a bit scared that you can't possibly achieve your goals.
I strongly suggest you do this practise once every three months. This will make it easy for you to easily look at, refine, delete or check off your previous goals and achievements without forgetting what you've done or not done.
If you set huge goals, you may feel overwhelmed. You may have tried that before, failed and become despondent.
If you set huge goals with baby steps you may feel it's possible but can you really do that big thing that's at the end of the baby steps?
If you set huge goals with baby steps and then look at how your life has changed three months on, you'll see that not only is it possible, but you will have invariably surpassed your own expectations in most areas.
I would never have believed I could write five books, even after I'd finished the first four. The end goal was far too big to really believe in, but the baby steps and achievements made me focus like never before.
Removing obsolete goals is important if you want to fully align to the divine you, because as you become more divinity-driven, and less ego-driven, you'll see that some of your goals came from the painbody part of you, or from thought forms that aren't you.
Our aim is to become divine beings in our bodies, and so anything that isn't created from you through flow, love, devotion and service will soon stick out like a sore thumb for you to laugh at before discarding.
Creating affirmations from goals
To find your goals, simply write sentences to fit your desires. Using just one example, I'm going to show you how it works:
"I want to work just ten hours a week"
This is a valid goal, but it's future-based, not based in the present.
The future will never exist so the first thing I'm going to do before adding the baby steps is turn it into an affirmation that sits in the space of presence. I could choose any of these:
"I work only ten hours a week"
"I earn more than enough and still only work ten hours a week"
"Just ten hours a week of work gives me the abundant lifestyle I deserve."
See how I've omitted "want to", so now when you view each statement it's already current, and happening "now" in your mind, as well as in the universe (which is a reflection of your mind).
To begin this exercise, write down on your paper all of your "wants" and then turn them into affirmations, as I have just shown you in the example above.
Use extra paper if you need it.
List as many as you can think of.
It will look something like this on your paper:
My wants
(I want to work 10 hours a week)__________________________
_________________________________________________
_________________________________________________
_________________________________________________
______________________________________________(etc)
My affirmations
(I earn more than enough and still only work ten hours a week)_____
_________________________________________________
_________________________________________________
_________________________________________________
______________________________________________(etc)
Refine your affirmations
Now just highlight the three affirmations you want to work with this quarter (12 weeks).
Work with the others at a later date, so as not to overwhelm yourself with too much sudden change, and also so you can honour the changes you are currently working with.
On a blank sheet of paper, write your top three affirmations, leaving space for the baby steps that will help you achieve them. Have a look at my example below for guidance on how to fill in your baby steps, and what they could be. Obviously they'll be different to my example because they need to relate to you.
Also, keep space for notes as you become really creative with your way forward. Feel free to add more paper if needed.
Write today's date on the top of the page for quick reference.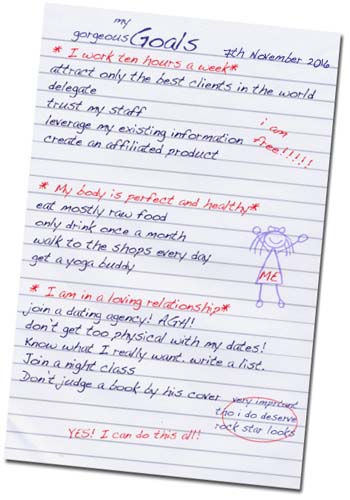 How to do your backwards goal-setting
Mark in your calendar three months from now and set aside an hour to complete your first round of backwards goal-setting. Use a new blank sheet to write your affirmations on. You can include goals you've achieved that weren't on your original list, as they show you where your passion and energy has been spent.
It may look something like this:
So now you can see how to move forward with your backwards goal-setting and affirmations.
Every three months you have a new list of what you wanted to achieve and what you actually achieved.
This will help you re-evaluate your next set of goals by seeing where your real passion, enthusiasm and energy lies.
You can keep any goals you've not achieved on your new list, or you can decide that wasn't really a goal, just a whim and remove it.
Then you start all over again with round two.
It's that simple.

Why I want you to do this today
When you start this today, you'll be setting goals for the first part of 2017, so you'll already be half way through achieving them while everyone else is making their new year's resolutions. Come January the first, who's going to be the one feeling all accomplished and stuff? 😉
I really hope you've enjoyed today's training, and have a better idea of the direction you want your life to go in.
Want more of this stuff?

This is the kind of training that I teach in Shazzie's VIP Room, my life mastery club. Enrolment is only open for another 2 and a half days, and the mentoring option is now in short supply. If you're truly committed to living your life in the most awesome way, the best help I can give you is in Shazzie's VIP Room. Have a look at what it's all about here.
Bliss U
Shazzie
PS: I want you to know you are in good company. Here's what the experts say:
"Shazzie has an authenticity that runs through everything she does. Her steps to total wellbeing are inspiring."
Glenn Harrold
Million-selling author & CEO
"Shazzie is inspirational, she looks incredible, walks the walk and shares all her fabulous ideas like a true sister!"
Janey Lee Grace
TV and radio star and author
"I have learned more from Shazzie in a week than I have from a lifetime of conversation with others. She is the real deal. You will be pleasantly surprised as you continue your journey in discovering your true ecstatic self"
Philip McCluskey
Weight loss expert and author
I want you to become an expert in your awesome life, too… join me today, let's do it together.

Comments
Posted on
November 7, 2016