We have a winner!
The competition to win a copy of my latest book Ecstatic Beings (which was published late last year) saw about 75 of you inventing and sharing fab new words!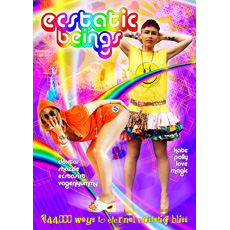 Thank you all so much for your ecstatic, crazy and mind-altering new words in my latest competition. I've had a right proper laugh reading them. They were all so amazing in their own right, but, as they say on Blue Peter, there can only be one winner and that winner is:
Brenna. Congratulations! We will send a copy of Ecstatic Beings to you as soon as we can. Please let us know what you think of her!!
And the winning word?
Mirthquake: It's when you're so full of glee that you're vibrating!
Bliss U
PS: Have you signed up to Passion ezine yet? It's written by a team of health and wellbeing experts and is full of offers right now to celebrate our 10 year anniversary. Sign up here, now: http://www.detoxyourworld.com/
PPS: We have had many comments about Ecstatic Beings. Here's just one:
"This is the bestest best book that I have in my collection of zillions! I really really love this book. Big larfs! Finally a book that makes sense of my world but in a very silly way. Love it!!"
— Jodi Merrett Whitby, by email
PPPS: Look out for another competition soon. Hope the sunshine is enjoying you right now!
Comments