I invite you to Join The Exciting Raw Food Revolution
At last! Find out How YOU can implement a quick, easy and affordable raw food diet in just 23 days without any cravings, becoming deficient or slaving away in the kitchen for hours each day.
With obesity and disease becoming more intense in our culture, are you wondering what on earth you can do to stay healthy?
Though the question is straight forward, the answer is less clear. With increased working hours, the demands of family life, deadlines, long commutes to and from work, pesticides, GMOs, and the undeniable convenience of fast food meals…how can you start to develop new and healthy habits that don't cost a fortune and are easy to prepare?
By now I'm sure you've heard about Raw Food. Maybe you've seen my hit TV series Raw Kitchen on Sky Sports, or noticed your favourite celebrity "going raw". Maybe you think it means eating lettuce leaves all day or walking around with a carrot stick in your hand. I used to think that, so you're not alone!
You may have already looked into raw food recipes and discovered that there is quite a bit more to it than salad. But you feel confused with all the new foods and kitchen equipment. Discovering all of these recipes and "gurus" online has probably only confused you even further as to what may be right for you. How can so many people be promoting so many different types of raw food diets? They can't all be right, can they?
As we all know, the Internet can be a tremendous resource for helping us find all sorts of information. It can also be a breeding ground for disinformation. Some people promoting raw foods are doing so in such a dangerous way that those they attract those who already have food issues like anorexia or overeating. In some cases, they are giving advice that has lead to long-term illnesses due to lack of proper nutrition.
Some raw food coaches, in order to gain favour, are using photos of themselves that are fifteen or more years out of date and are still giving outdated raw food advice that doesn't take into account all the nutritional needs you and your family have, which has led to both adults and children becoming ill. In other cases, some raw food gurus look way too old for their years because their diet has caused their skin to age prematurely.
Some authors simply regurgitate the advice of others without doing any real research of their own, so you end up with "Chinese Whispers" advice. The problem here is that it may not only be wrong, but also damaging to your health.
But wait… it's not all doom and gloom (phew!)
Allow me to introduce myself. My name is Shazzie and I'm a raw food TV Presenter, author of five books and have blogged about raw food since 2000.
It all began for me when I turned 30, I was feeling so awful about my life, happiness and health, I eventually decided to go raw.
I have to admit, it was one of the best decisions I've ever made.
I went from being constantly tired, bloated, overweight, full of colds and flu and with an awful attention span to becoming my correct weight, full of energy, and truly happy for the first time in my life.
I'm not joking or exaggerating… Within only 3 weeks of eating raw food I really started to feel a change. As my body got rid of the toxins, they were replaced by the nutrients my body desperately needed. The first thing I noticed was I felt more energetic, followed by my skin looking more vibrant, and finally I started losing weight!
It wasn't long before I started to feel amazing all the time. For what may have been the first time in my life I felt truly alive and excited by life! Not only was I losing weight, but my immune system was stronger, and I felt healthier and generally much happier.
I owe my life to the power of raw foods
I started eating raw foods way back in 2000. Now, I still eat mostly raw foods, and I'm still vegan (that's a different story, which started in 1986).
Raw foods excited me so much I started what was to become Europe's largest raw food business.  I sold this business in 2012, retiring happily, aged just 43.
Others may try to convince you of their amazing raw food transformation with stories of wonderment. But I've decided to go further. Here, I'm sharing with you these before and after pictures of myself to let you come to your own conclusions about how raw food transformed my life. After all, a picture is worth a thousand words. Right?
Even more power to raw foods
Since making raw foods into my career, I have hosted a series on Sky Sports / The Active Channel as a Presenter, and I've been on Channel 4, Channel 5, BBC Four and Good Food.
I brought raw food to the masses with Closer Magazine, The Daily Telegraph, The Green Parent Magazine, Vegetarian Living, Yoga Magazine, Get Fresh Magazine, That's Life Magazine, The Independent, Woman Magazine, The Guardian, The Observer, The Eastern Daily Press, The Sunday People, Style Magazine, What Medicine?, Natural Beauty and Health Magazine (USA), Natural Health And Beauty Magazine, Time Out (Dubai) and many more.
Phew! That seems like such a mouthful, but I really want everyone to know how great raw foods are, so I went on a bit of a mission.
As I touched on earlier, I have spent years with my head in science and nutrition papers and books, finally piecing together what I believe is the most successful raw food diet style available today.
No stranger to controversy within our raw food culture, I have raised and resolved many issues that were previously ignored by all the best-known raw food educators. I don't want to be the most popular educator, or to achieve guru status. I just want to bring you the "raw truth" about health and wellbeing, so you can experience your very own vibrant and ecstatic transformation too.
The ultimate raw food diet plan finally revealed
Imagine a lifestyle that:
Lets you eat an amazingly wide selection of raw food easily. Everything ranging from cakes and chocolates, to breakfasts and dinners. Think of it, no fuss, and no massive expense.
Harmoniously integrates your family in the benefits of raw food without stripping them of their known foods.
Helps you raise your kids with the best foods available to make them strong, fit and perfectly nourished.
Helps you go raw successfully without worrying about becoming deficient, getting an eating disorder or having to have a degree in food.
Feel satisfied and satiated with thousands of delicious recipes tasty enough for even the most discerning palate.
Opens you up to a more peaceful, fulfilled, happy and content life.
You don't have to spend all the years of research and studying, not to mention the thousands that I've spent, because I've made the best of the raw food diet information fully available to you with my New 2 Raw home study course.
Let me help you go raw the simple and safe way
After all these years, I've boiled it down and discovered that actually, there are 3 key steps to becoming successful at eating raw food:
1) Eat more green food than anything else
It's a wonderful dream that we can get away with eating loads of fruit and not much else. But the body needs certain nutrients that aren't available in fruit. Over the course of weeks, months and years it can take its toll on the body.
I have friends who after about 18 months on a high-fruit raw food diet had things happen to them. Things such as their teeth going see-through, losing their strength, their mojo disappearing. They got that crazy look in their eyes, the darting eye look — you may have seen it in people! Many of them went back to cooked food.
It's not bad to eat fruit, you just have to temper it with a lot of greens. A lot. I found a new strength, stamina and grounded feeling when I started adding massive amounts of fresh and powdered greens into each and every meal.
Enjoy the variety that more greens in your diet gives you.
I challenge you to try it for yourself. Make a big green juice a day out of celery, cucumber, parsley, coriander, even a spoonful of chlorella, and really feel the difference.
Why not enjoy a raw warm soup made with grounding greens and some chia, avocado, spices, herbs with some alfalfa sprouts on top.
Try adding wheatgrass juice or powder to your smoothies. Above all, eat as many greens or their juices as you possibly can and you will find it much easier to stay successfully raw in the long term.
OK, so I can imagine you sitting there thinking "I can do that, but what else? Surely that isn't the magic formula is it?" And of course you are right… Let me go on:
2) Take specific supplements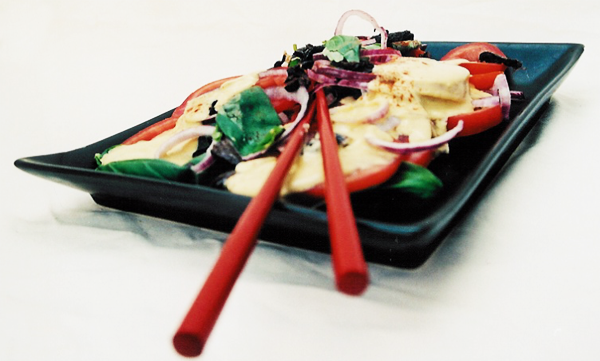 The "normally accepted" raw food diet is vegan. I'm vegan, and have been for 30 years (all my adult life). Like me, you probably love the vegan lifestyle, how it makes you feel to avoid animal cruelty. But there are some nutrients that are absent or hard to find on a vegan diet. Some are well documented, such as vitamin B12. However, some aren't so well documented.
As part of my endless research in how to live successfully raw vegan for the rest of your life, I worked out all the nutrients that may be absent or low in a raw foodist's diet. I then wrote about different ways to get them.
For example, vitamin K2 is essential for good bones and teeth. It's a fat-soluble vitamin that helps your body absorb minerals. You see, it doesn't matter how many green smoothies you drink, you can't absorb minerals in the absence of fat-soluble vitamins.
I have met many raw children with dissolved teeth and growth problems, and that was probably because they weren't getting vitamin K2 in their diet.
Raw foodists get lots of vitamin K1 in their diet from green leafy foods but they can't convert it to vitamin K2 very well as humans aren't designed to do that. Animals such as cows and goats can do this really well, and vitamin K2 is abundant in their offal and milk products.
However, If you're a vegan you might not want to consume offal and milk products! I suggest you take a vitamin tablet to get vitamin K2 if you want to remain vegan, but there are also a few foodstuffs where you can get it from, too.
There are about ten nutrients like vitamin K2 that vegans need to be aware of if they want optimal health for life. Raw vegans need to be even more aware because, unlike cooked vegans, they aren't eating foods that are fortified with extra vitamins and minerals. This is a huge subject and I have given you the full lowdown in your New 2 Raw Home Study Course.
3) You don't have to be 100% raw to benefit from a raw food diet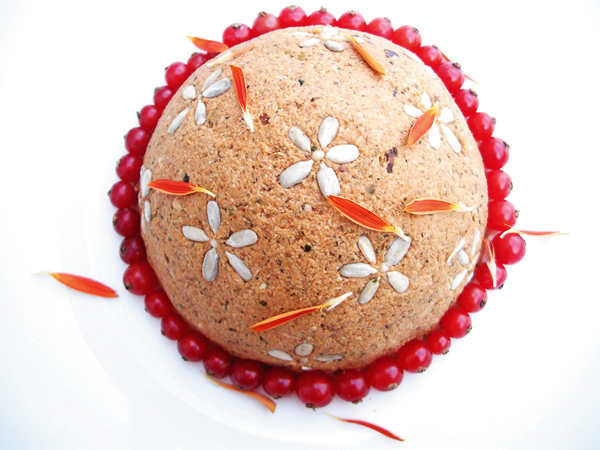 Most of the people I've worked with aren't 100% raw and have no intention of being, which is perfectly OK. The great thing is, because of personal choice, and for their own reasons, some choose to add some cooked food to their diet. Some are busy, some are always networking in restaurants, some have families and want to eat with them, some simply like cooked food. Yet they all have this in common: They love the way raw food makes them feel. So they make sure they have at least 50% of their food (in weight) raw, in every meal, and that makes them feel great.
This is a wonderful way to stay sane on raw food. It stops bingeing. It stops overeating. It stops guilt. It stops food obsessions.
If you are committed to being raw whenever it's possible, yet you allow some cooked food into your world without judgment on yourself, you'll still be emotionally stable, happy and healthy.
In New 2 Raw you'll discover which raw foods pack more punch than others to give you all the nutrients you need, so a little bit of cooked food here and there won't hurt at all ☺
So join me now — and let me show you how to transform your life by going raw the safe, simple and exciting.
"OK Shazzie, So this all sounds amazing. What will I get?"