Hey you! If you love life and business mastery, you'll feel awesome here!
I'm Shazzie, Life & Business Mastery Mentor, TV Presenter and Author of five books and several apps.
I'm also mummy to my beautiful Evie (born 2004). We live with my our  doggie and two guinea pigs in our luxury bespoke eco-home in Sussex, UK.
Yes, I have a Jacuzzi in my bedroom, a disco spring water steam room and a fabulous mirrored and crystal chandelier kitchen.
I want to let you know how I got to this point, because believe me, my life wasn't always this wonderful.
I was born in Yorkshire, UK in 1969, moved to Cambridgeshire as a kiddie, and then moved around lots more until I settled here.
I trained as a graphic designer in the early nineties and was one of the world's first web, GUI and touch screen designers. I travelled the world and lived the life of my dreams.
But something was missing and made me feel deeply unfulfilled — I realised I wasn't living my purpose. Eventually it hurt too much, so I made some radical changes to my life.
I cleaned up my diet, moved to Spain for a couple of years, decided what I wanted to do.  Then I unwittingly changed the world with multiple revolutions.
I'm the woman behind raw chocolate, the superfood explosion and making raw food sexy.
Having started a blog (one of the world's first blogs) in 2000, I found myself with millions of readers, a fledgling business, viral videos and posts and a very steep learning curve.
My business soon grew to be the largest of its kind in Europe
In just twelve short years, my passion and creativity made all this happen:
I wrote five books (Detox Delights, Detox Your World, Naked Chocolate with David Wolfe, Ecstatic Beings and Evie's Kitchen).
I got myself a TV series on Sky (Raw Kitchen).
I presented and hosted events at the world's most prestigious venues such as the Burj Al Arab in Dubai.
I created the UK's first ever range of raw organic chocolates.
I became one of iTune's most downloaded meditation authors (Sleep Easily, over half a million downloads).
All because I just followed my passion.
I didn't let becoming a homeless single mummy and many other personal dramas stop me. In fact I just kept focusing on what I loved to do and now I reap the rewards daily.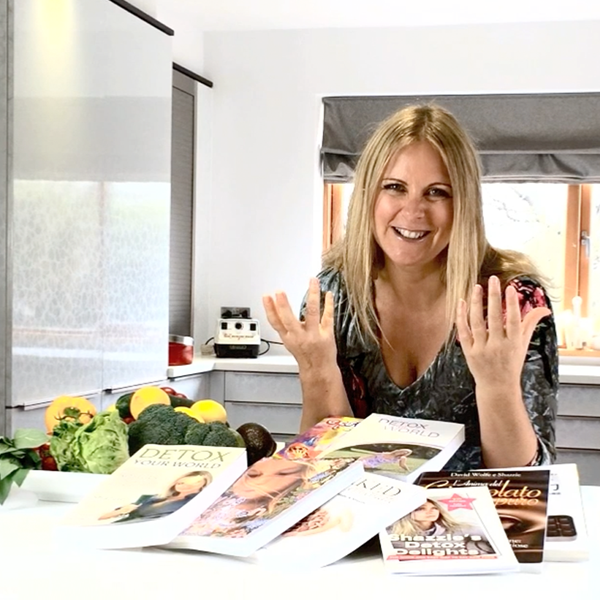 Once I'd established my business, I reduced my working hours to about ten a week. I'm a master at helping you to shrink your effort and grow your income.
In 2012 I sold my business, paid off the mortgage on my gorgeous bespoke home and kicked back and relaxed into early retirement, aged just 43.
I have to stress that I did this without the support of a man, trust fund or savings. It happened because I had a passionate vision and I would do anything to make it happen. Even if that meant rubbing tropical fruit all over my body in one of Youtube's first viral videos.
Now I work very part time, helping you get to this same point (fruit rubbing optional)
…Happy, abundant, financially free and most importantly able to spend time with those you love the most.
I'm so crazily accomplished, I want nothing more than to help you kickstart your big stuff and revolutionise the world according to what you feel is important.
My superstar clients are achieving great success!
LP enrolled 200 new students in a day.
ER just finished a $250k launch.
AK has created a deep personal transformation system and is about to roll it out to the world.
ED is helping new mums get their mojo back!
SN has a $30m turnover and declared that she learned more with me in a day than she has in ten years.
And it goes on. As we work together we uncover and deliver more incredible business gifts and personal achievement desires.
I know right now it's hard to imagine anything more than you already have. I NEVER imagined my life could be like this. EVER. I thought I'd end up working in a fish and chip shop, because I didn't know people like me could live a life like this.
But I do, and you can too, when you discover that you LOVE something bigger than yourself.
And to get you started, here's a very special gift to you!
Once you've watched it, you'll know exactly what you need to do to become abundant and free while delivering your grandest vision of love to the world.
Bliss U

PS: Want to retire aged 43 like me? Get started with your free business self coaching guide here now.